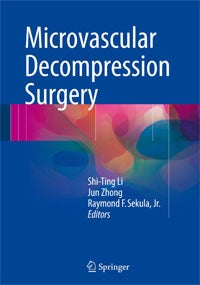 Pittsburgh, November 24, 2015 -- Raymond F. Sekula Jr, MD, MBA, associate professor of neurological surgery at the University of Pittsburgh and director of the department's cranial nerve disorders program, is co-editor of the newly released, first edition textbook, Microvascular Decompression Surgery, an update on MVD surgery, widely accepted as an effective remedy for cranial nerve hyperexcitability disorders including hemifacial spasm, trigeminal neuralgia, and glossopharyngeal neuralgia.
Shi-Ting Li, MD, PhD, and Jun Zhong, MD, PhD, from the department of neurosurgery at XinHua Hospital and Shanghai Jiao Tong University School of Medicine, in Shanghai, China, are co-editors of the book. 
The book's author, Springer, notes "the authors describe in detail those steps of the process that need the most attention in order to achieve an excellent postoperative outcome, including positioning, craniectomy, approach and identification of the culprit, etc. Though it primarily focuses on surgical principles and technical nuances, the book also addresses the intraoperative electrophysiologic monitoring and pathogeneses of hemifacial spasm and trigeminal neuralgia."
Dr. Sekula is known internationally for his development of microvascular techniques and has lectured worldwide on the subject.
For more information on the book, please visit the Springer website.