Pittsburgh, April 2, 2022 -- Robert Friedlander, MD, Walter E. Dandy Professor and chair of the Department of Neurological Surgery, was awarded the special faculty rank of Distinguished Professor at the University of Pittsburgh at a special faculty honors convocation ceremony, April 1, at Soldiers & Sailors Memorial Hall & Museum. The award is the highest honor the university can accord a faculty member.
The convocation ceremony paid tribute to the "outstanding achievements of 300 faculty members from various schools that characterize the quality of academic life at the University," according to an announcement from Pitt. The special category of distinguished professor honors extraordinary, internationally recognized scholarly achievement.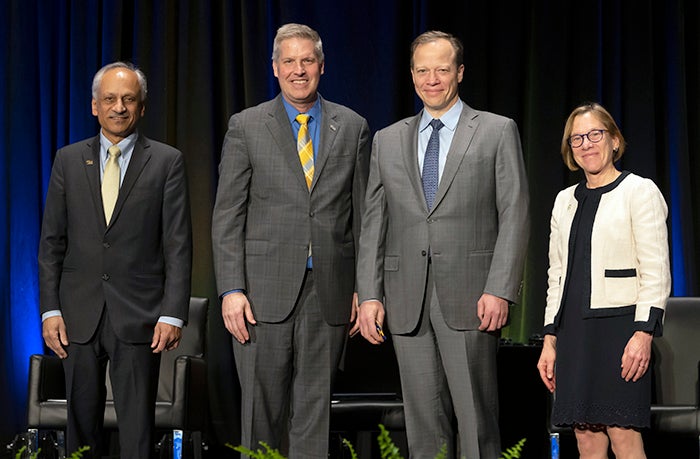 A noted neurosurgeon and an expert in Huntington's disease, ALS, and stroke research, Dr. Friedlander has received a number of significant academic awards and accolades over the years, most significantly an induction into the prestigious National Academy of Medicine in 2019, one of the highest honors in the fields of health and medicine.  In addition, Dr. Friedlander is an elected member of the American Society for Clinical Investigation and the American Association of Physicians.
As a sign of his prominence as a clinician and scientist, Dr. Friedlander is one of a very select group of authors to have been invited by the New England Journal of Medicine to write both a basic science review (mechanisms of neuronal cell death), as well as a clinical review (management of AVMs). His work has been published in the highest impact journals, most notably Nature, Science, Nature Medicine and Nature Neuroscience
In addition to serving as chair of the Department of Neurological Surgery, Dr. Friedlander is also head of the department's cerebrovascular program, director of the department's complex brain surgery program and co-director of the UPMC Neurological Institute.
Dr. Friedlander is the third current department faculty member to receive the appointment of Distinguished Professor rank, joining Center of Image Guide-Neurosurgery director L. Dade Lunsford, MD, and UPMC Children's Hospital of Pittsburgh chief of pediatric neurosurgery Ian Pollack, MD.