University of Pittsburgh Neurosurgery News presents readers with discussions on current neurosurgical techniques and practices and updates on research advancements in the field of neurosurgery. The newsletter is available for viewing and CME credit evaluation on the UPMC Physician Resources website.
Editor: Peter C. Gerszten, MD
Production Editor: Paul Stanick
In our latest issue, February 2021: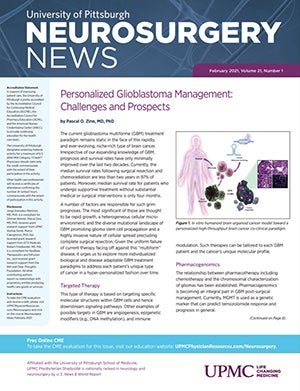 David O. Okonkwo, MD, PhD, explains how glial fibrillary acidicprotein (GFAP) can accurately determine the severity of a brain injury through a blood test.
Raymond F. Sekula, Jr., MD, MBA, describes how the Center for Brainstem and Cranial Nerve Disorders is working to better understand which patients with trigeminal neuralgia (TN) can benefit from surgical intervention.
Jorge Gonzalez-Martinez, MD, PhD, describes the stereotaxic exploration of the epileptic brain.
Pascal Zinn, MD, PhD, identifies glioblastoma multiforme (GBM) management.
Marco Capogrosso, PhD, explains spinal cord stimulation (SCS), initially developed for the treatment of refractory pain, is now finding great momentum as a tool to restore movement after spinal cord injury.