Intraoperative neurophysiological monitoring (IONM) can reduce the incidence of complications during complex neurosurgical, orthopedic, spinal, cardiothoracic, vascular, otorhinolaryngology, interventional neurology, and interventional cardiology in adult and pediatric surgeries. Somatosensory evoked potentials (SSEPs), transcranial motor evoked potentials (TcMEPs), electromyography (EMGs), electroencephalography (EEG) are the common modalities used to perform IONM. 
Specifically, IONM with SSEPs and TcMEPs during idiopathic scoliosis fusion (ISF) has been shown to decrease the incidence of paraplegia during surgery. In addition, IONM with SSEPs and EEG can be used during carotid endartectomies to inform the surgeon about the need for shunting to improve cerebral perfusion and decrease the risk of stroke.
IONM data interpretation can be performed by a board certified neurophysiologist both in the operating room (in-house), as well as via remote connection (telemedicine) using a secure internet connection. Approximately 750,000 surgical procedures use IONM nationally, of which the majority are performed via telemedicine. 
Telemedicine—where a professional medical service is delivered via the internet—is a rapidly growing specialty of medicine. Studies have shown that telemedicine can increase access to care at a significantly lower cost. 
Some hospitals, especially rural and small community hospitals, have difficulty in providing similar services as a large university hospital usually due to a lack of board certified neurophysiologist. These facilities rely on telemedicine to provide high quality care.
Typically during IONM, a certified technologist connects the patients to machine by the use of electrodes. Once connected to the machine in the operating room, data can be interpreted by the neurophysiologist in-house or remotely where the data is transmitted using a secure HIPAA compliant internet connection.
In our practice the number of procedures performed using telemedicine services has grown significantly over the last six years. However, the question sometimes is: can a professional medical service be performed in an effective manner using telemedicine?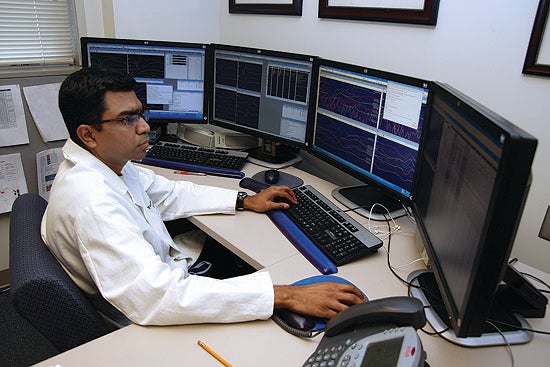 At UPMC, we evaluated whether IONM can be effectively performed using telemedicine. We evaluated patients who underwent carotid endartectomy (CEA) both at our main UPMC Presbyterian and community hospitals within and outside the system. We collected their preoperative comorbid conditions, their IONM data and post operative neurological outcomes. UPMC Presbyterian patients had more complex medical problems and many of them were admitted to the hospital for an unrelated medical condition. Our results indicate we identified similar number of changes in IONM data during the procedure irrespective of the setting. However, the post operative neurological complications were higher for the in-house group, secondary to their more in-complex medical problems.
In addition we collected similar information in patients who underwent idiopathic scoliosis fusion at Children's Hospital of Pittsburgh of UPMC. Children's moved from a building attached to the main UPMC Presbyterian building a few years ago, to a new building approximately five miles away. After the move, our team provided IONM services for the scoliosis patients via telemedicine. The mean age and their scoliosis curvature were not significantly different in children when IONM was performed in-house as compared to remote. Our results indicate we identified similar number of changes in IONM data during the procedure irrespective of the setting. There was no difference in the incidence of paraplegia after the procedure.
Results at UPMC indicate that IONM during CEA and ISF can be reliably performed via telemedicine by a board certified neurophysiologist, improving access to care and reducing the cost of coverage to community hospitals.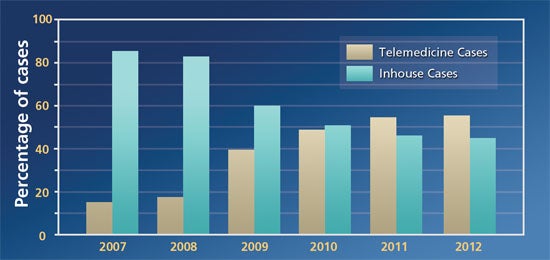 Growth in telemedicine cases in the last six years.