Cranial base surgery has a long tradition at the University of Pittsburgh. The UPMC Center for Cranial Base Surgery—under the current direction of Paul Gardner, MD, and Georgios Zenonos, MD, in the Department of Neurological Surgery, and Carl Snyderman, MD, MBA, Eric Wang, MD, and Andrew McCall, MD, in the Department of Otolaryngology—is the first skull base center to be established in North America and has pioneered both transcranial microscopic and endoscopic endonasal approaches to the skull base and brain. Together with their partners in the Departments of Otolaryngology, Oculoplastics, and Plastic Surgery, they continue to advance the field through improvement of surgical techniques as well as molecular strategies for treating skull base disease. They also work in regular collaboration with L. Dade Lunsford, MD, who established the first Gamma Knife center in North America at UPMC in 1987, and was also the first to introduce radiosurgery for the non-operative treatment of skull base tumors.
Michael McDowell, MD, a graduate of the UPMC Skull Base Fellowship works in collaboration with the other members of the center to provide comprehensive endoscopic and open skull base surgical care at UPMC Children's Hospital of Pittsburgh, with particular focus on cranio-cervical junction disease including tumors, basilar invagination, and other causes of cranio-spinal instability requiring instrumentation. 
Experts at the UPMC Center for Cranial Base Surgery continue to lead the field of minimally invasive brain surgery by developing new techniques, tools and approaches that have made it possible to access many tumors, regardless of size. Since 1997, more than 4,000 endonasal surgeries have been performed in adults and children, making UPMC one of the busiest centers in the world for the surgical treatment of tumors of the pituitary region and cranial base. By combining this innovative approach with other minimally invasive approaches, such as transorbital and endoscopic-assisted retromastoid and keyhole approaches, as well as the full complement of standard skull base approaches, the team at UPMC provides a full array of options for cutting-edge treatment of skull base disease. In addition, the Center for Cranial Base Surgery has also been designated as a Pituitary Tumor Center of Excellence by the UPMC Health Plan, setting the standard for pituitary tumor treatment in the region.
Drs. Gardner, Snyderman, Zenonos and Wang, along with Tonya Stefko, MD, from the Department of Ophthalmology, and Barry Hirsch, MD, Philip Perez, MD, and Dr. McCall, from the Department of Otolaryngology, comprise a team of experts in cranial base surgery, advancing patient care through clinical outcomes studies, in-depth anatomical study, molecular science and genetics research and an international training program. Supported by expert physician assistants Rachel Rogers, Brittany Snider, and Kayla Grom and a highly experienced subspecialty nursing team, patients are evaluated and guided through even the most complex, multidisciplinary care.
The concept of team surgery allows the center to select the best surgical approach for each tumor, with a surgical plan designed around the particular needs of the individual patient. Treatment is designed to offer the best surgical outcome with the least side effects and maximal preservation of function. A full array of transcranial approaches, minimally invasive keyhole approaches and endoscopic endonasal approaches are routinely applied with proven and studied success. The UPMC Center for Cranial Base Surgery is also a major teaching and research destination for surgeons and other health care professionals looking to learn more about these techniques. Faculty teach three courses a year at UPMC, featuring live surgery and hands-on laboratory work. They also travel the world teaching these procedures to the next generation of skull base surgeons.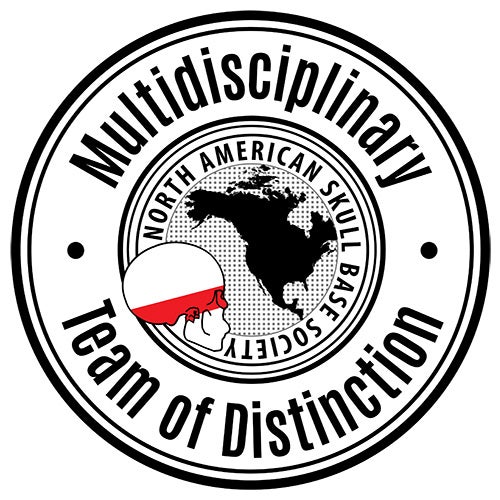 The University of Pittsburgh Medical Center has been designated as a "Multidisciplinary Team of Distinction" by the North American Skull Base Society. This designation is based on meeting NASBS membership criteria and may not be construed as a medical referral. In addition, the Pituitary Center has been named a center of excellence by the UPMC Health Plan. This designation is based on high volume practice with regular metrics which uphold a high standard of care for the entire UPMC system.