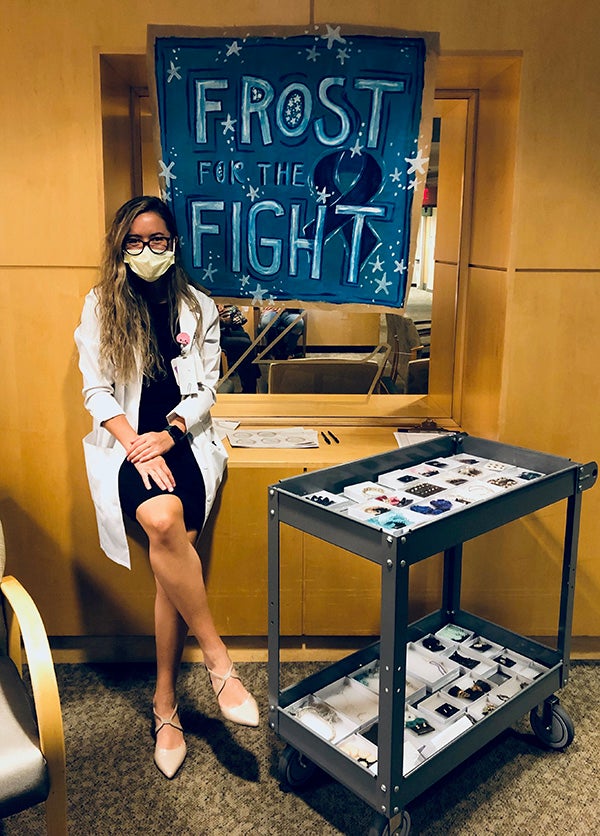 Pittsburgh, August 27, 2020 -- Physician assistant Courtney Gargasz decided to find a way to give back to a small business during this trying COVID-19 time and—at the same time—support patients undergoing cancer treatment at UPMC Hillman Cancer Center.
Working with donations provided by fellow employees and physicians at UPMC, Courtney teamed up with local jeweler Frost by Foti, and its owner/designer Alix Foti, to purchase discounted jewelry, which she then passed out to women undergoing cancer treatment on August 27 at the cancer center.
"As you know many women lose their hair while going through treatment," Courtney said. "What better way to make them feel beautiful than accessorizing them with some jewelry. Everyone needs a little Frost for their Fight!"
Courtney, who works with cancer treatment experts Nduka Amankulor, MD, and Pascal Zinn, MD, PhD, plans to continue her fundraising efforts and her partnership with Foti to further her efforts in brightening cancer patients lives. A gofundme page has been set up to help the project. Any extra proceeds will be donated to the UPMC Hillman Cancer Center to fund cancer research.