Pittsburgh, May 18, 2015 -- Joseph Maroon, MD, Heindl Scholar in Neuroscience at the University of Pittsburgh and renowned sports medicine and health expert, was one of over 50 hikers that completed the The Crucible, a rugged, three-day, 70-mile, extreme charity hike through western Pennsylvania's Laurel Highlands, May 15-17.
The hike raised over $71,000—far exceeding it's original goal of $60,000—for Checkpoint, a local non-profit online service developed to help area veterans and military families.
Dr. Maroon—who co-chaired the event with former Pittsburgh Steeler Rocky Bleier, a U.S. Army veteran and recipient of the Purple Heart and Bronze Star—said "this was a win-win, for everyone involved. Not only did we bring awareness to veteran services and make our fundraising goal, but all those that participated had a great time and achieved a great personal accomplishment."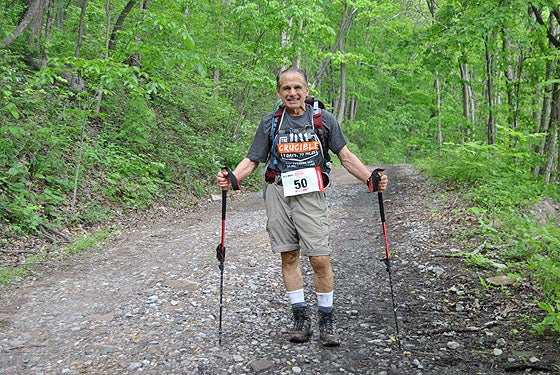 Billed as an event that mirrors the military credo "we're in this together," The Crucible followed a trail stretching from the Conemaugh Gorge near Johnstown, Pa. to the Youghiogheny River at Ohiopyle State Park. Organizers limited the number of participants and available slots filled quickly after the hike's announcement this past November.
According to Dr. Maroon's website, "many of the participants agreed that the last day was the toughest due to the hilly terrain and the wet weather. But despite this all were smiling at the finish line. Event organizers hope to make this an even bigger annual event next year."
Jared Souder, hike organizer and Checkpoint founder and exceutive director, extended a special thank you to hike sponsors that included UPMC Health Plan, GNC, Mylan Labs, 84 Lumber and Giant Eagle. "This event would not have been possible if not for our great sponsors," noted Souder.
Checkpoint was established to help area veterans quickly locate important veteran-related resources in the tri-state area. It is intended help reduce confusion and misinformation that veterans and their families may face as they build their lives after serving their country in the military. It is also designed to serve as a voice for veterans and their families.
Listen to Rocky Bleier talk about The Crucible on NewsRadio/KDKA 1020 Radio with Dan Zangrilli.
Read Hike organized to draw attention to veterans services article in Pittsburgh Post-Gazette.