Pittsburgh, December 4, 2018 --  Joseph Maroon, MD, Heindl Scholar in Neuroscience at the University of Pittsburgh and noted health and sports medicine expert, has launched the second edition of his book, Square One: A Simple Guide to a Balanced Life, that takes a look at the importance of understanding where you are in life and the need to keep all elements of your life in proper "balance."
After establishing his world-class neurosurgical practice, Dr Maroon felt he'd reached the top. But at the age of 41, a series of personal and professional losses and setbacks led him into a baffling new reality—and straight into the darkness of depression. His savior was a thin leather-bound book by William H. Danforth called I Dare You, which taught him how to address four key areas vital to rebalancing his life: good health, a sense of spirituality, meaningful work, and strong relationships. As his balance returned, Dr. Maroon applied his clinical experience to his newfound peace: What is it about these four sides of the human experience that brings us balance? What does science tell us about living well?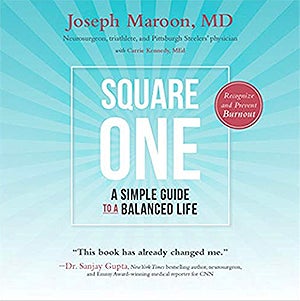 Square OneSquare One combines deeply personal anecdotes with illuminating scientific explanations to help readers balance their priorities and find their center. Using Danforth's four pillars, Dr. Maroon explores the science behind a balanced life and how we can use them to avoid emotional, spiritual, and physical burnout—an increasingly prevalent problem, especially in high-impact professions like law, medicine, and public service. "Without recognizing burnout for what it is, it becomes harder to address and correct," he writes. "In addition to affecting job performance, burnout can wreak havoc on personal lives, with consequences like substance abuse, divorce, dysfunctional families, disengagement, and decreased social skills."
Square living has given Dr. Maroon the outlook he needed to excel. He has served as the team neurosurgeon for the Pittsburgh Steelers since 1981 and is a leading innovator in concussion treatment. He takes a whole-person approach to health and frequently speaks as a nutrition and healthy living expert in venues around the country. "I hope these pages can help [readers] find the healing power of balance. A happier, truly successful life awaits."
The book includes numerous endorsements from well-known public figures including CNN medical correspondent Dr. Sanjay Gupta; Pittsburgh Steelers great Troy Polamalu; golfing legend Greg Norman; and former CEO of Pepsi-Cola and Apple, John Sculley.
Square One is the third health-related book for Dr. Maroon. In 2008, he authored The Longevity Factor: How Resveratrol and Red Wine Activate Genes for a Longer and Healthier Life, a groundbreaking book that examined how the natural substances found in red wine can lead to a healthier and longer life. In 2006, he authored Fish Oil: The Natural Anti-Inflammatory that detailed the health effectiveness of fish oil supplements.
Square One, co-authored with Carrie Z. Kennedy, MEd, is published by Mascot Books. Ordering information can be found at maroonsquareone.com.
Watch Dr. Maroon, below, on KDKA's Pittsburgh Today Live discussing Square One on its initial release in 2017