Pittsburgh, March 6, 2014 -- Joseph Maroon, MD—clinical professor of neurosurgery, Heindl Scholar in Neuroscience at the University of Pittsburgh and noted sports medicine expert—reached the summit of Mt. Kilimanjaro, February 26, in the first ever climb of Africa's tallest mountain by 10 amputees, serving as the expedition's medical advisor.
According to his blog on josephmaroon.com, Dr. Maroon said "I feel like I am at the top of the world. I can't believe we are here."
Watch Local Doctor Leads Inspiring Climb Up Mt. Kilimanjaro from KDKA TV-2 Evening News.
Listen to Dr. Maroon at Summit Calls into KDKA Radio Morning Show.
The expedition was the centerpiece of the Live Free Foundation's 'No Limits Freedom Tour,' a trek across African that included Tanzania, Johannesburg and Cape Town. On the tour, the climbers presented lectures and athletic events at various community centers, disabled centers, and orphanages with the message of overcoming obstacles whether you are physically disabled or not.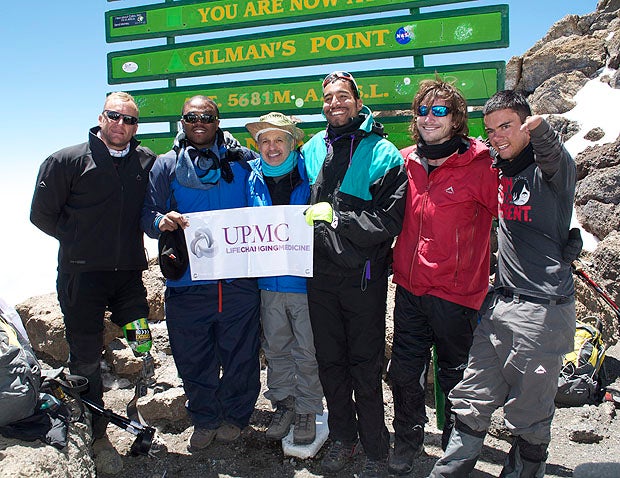 The foundation was founded in 2010 by Rajesh Durbal, a triple amputee, leadership lecturer, business coach, athlete, and author. Durbal, who has competed in the famed Hawaiian Ironman Triathlon competition, established the organization with the purpose of encouraging, motivating and inspiring people to live their best life now.
Maroon met Durbal when they both competed in the Hawaii Ironman in 2011. Durbal's life story, accomplishments and drive inspired Maroon and they have remained friends since. When Durbal asked Maroon in October to participate in the climb, he couldn't refuse. "It's really about disabled people pushing themselves to limits other people would not perceive of and showing other people," Maroon was quoted in a local newspaper.
After the climb, Maroon praised his fellow climbers, saying, "Seeing them overcome the kinds of problems they had climbing over rocks, using their false legs, their prosthetics to go through loose gravel, big stones, big boulders and never complain, never complain. It was always determination, persistence, resilience, all of the factors that really determine success in any field and always good humor, always joking, laughing despite the pain."
Maroon, an accomplished athlete having participated in more than 70 triathlons and Ironman competitions, had never attempted a mountain climb. To prepare for the trek, he jogged the stairwells of the University of Pittsburgh's iconic 535-foot-tall Cathedral of Learning every other day.
Mt. Kilimanjaro, located in Tanzania's Kilimanjaro National Park, is the highest mountain in Africa and the highest free-standing mountain in the world. It stands at 19,341 feet above sea level.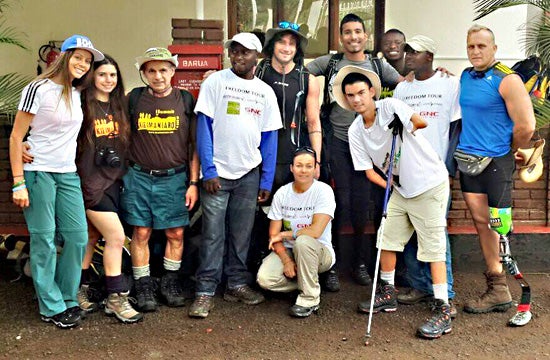 See also:
Doctor says Kilimanjaro trek was an inspirational high
Pittsburgh Tribune-Review
Local Doctor Climbs Mt. Kilimanjaro For Worthy Cause
KDKA 1020 Radio (Pittsburgh) Morning News
Dr. Joseph Maroon to Climb Mount Kilimanjaro to Support Disabled
josephmaroon.com
Neurosurgeon to take part in Kilimanjaro climb
Pittsburgh Post-Gazette
UPMC Neurosurgeon joins No Limits Trek up Africa's Mt. Kilimanjaro
Pittsburgh Tribune Review
Live Free Foundation website
About Mt. Kilimanjaro (Wikipedia)