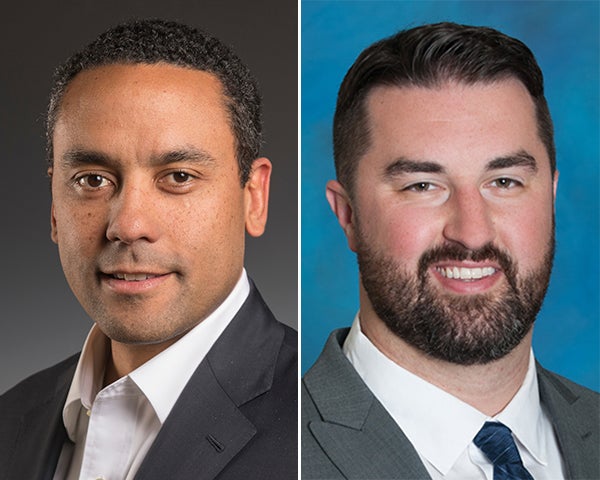 Pittsburgh, October 7, 2022 -- David O. Okonkwo, MD, PhD, (left) professor of neurological surgery with the University of Pittsburgh Department of Neurological Surgery and director of the university's Neurotrauma Clinical Trials Center, and Shawn Eagle, PhD, (right) research assistant professor with the department, received a $125,000 grant from the Chuck Noll Foundation for Brain Injury Research for their research project "Impact of Obesity on Blood-Based Biomarkers and Recovery Trajectories Following Mild Traumatic Brain Injury."
Established in 2016 through a grant from the NFL Pittsburgh Steelers, The Chuck Noll Foundation for Brain Injury Research was established to diminish the impact of sports related head injuries. The organization provides early-stage research grants to help improve the diagnosis, treatment and prevention of brain injuries. 
Chuck Noll was the Hall of Fame coach of the Steelers from 1969 through 1991, resurrecting a perennial losing football team and leading them to four Super Bowl titles. But perhaps his most lasting legacy will rest with his deep commitment to the health and safety of his players. Noll provided the impetus for Joseph Maroon, MD, Mark Lovell, PhD, and Micky Collins, PhD, to develop the Immediate Post-Concussion Assessment and Cognitive Test (IMPACT), a test used to monitor concussions. The test is now used worldwide among a multitude of sports.