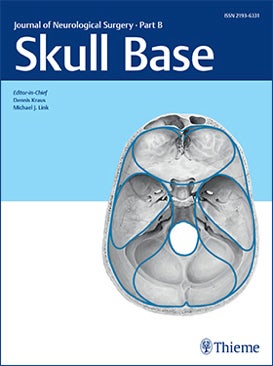 Pittsburgh, April 16, 2021 -- The second book volume of the skull base orbital pathology issue of the popular Journal of Neurological Surgery Part B: Skull Base series—coedited by UPMC Center for Cranial Surgery neurosurgical director Paul Gardner, MD, and S. Tonya Stefko, MD, director of the Oculoplastic, Aesthetic and Reconstructive Surgery Service at the UPMC Eye Center—has been released online by Thieme Publishers.
This second volume consist of 15 comprehensive and detailed articles on orbital approaches—the gateway to the skull base—from some of the most prominent neurosurgeons, otolaryngologists, orbital surgeons, neuroradiologists and pathologists in the world and represents a continuum of the work presented in the first edition.
"It is hard to adequately express gratitude for the efforts of our guest editors, Drs. Paul Gardner, Benjamin Bleier, Howard Krauss, and Tonya Stefko," wrote editors Dennis H. Kraus and Michael J. Link. "This titan effort has been 2 years in the making and it was so comprehensive that for the first time in the history of the journal we had to utilize a full 2 editions to publish the entirety of the work. The initial volume was published in August 2020. For those of you who have not read it, we urge you to obtain a copy to keep in your library next to this second edition.
"The work is comprehensive and provides a 360 degree view of the orbit in its critical position in the skull base. We would also encourage you to read the thoughtful Foreword by Dr. Joseph Maroon as it frames the importance of this work. Rather than reiterate Dr. Maroon's comments, as we know this is the most sincere form of flattery, we will let the work speak for itself. To our guest editors, thank you for your tireless efforts and seeing this project through to completion. This work will serve as a primer on the significance of the orbit in skull base surgery for years to come."