Pittsburgh, April 9, 2021 -- The Center for Image-Guided Neurosurgery, under the direction of L. Dade Lunsford, MD, treated their 17,000th patient using the ground-breaking Leksell Gamma Knife radiosurgery system on April 9, 2021. Steven Neff—a 31-year-old patient of Georgios Zenonos, MD, treated for a slight progression of a benign brain growth—was able to go home the same day.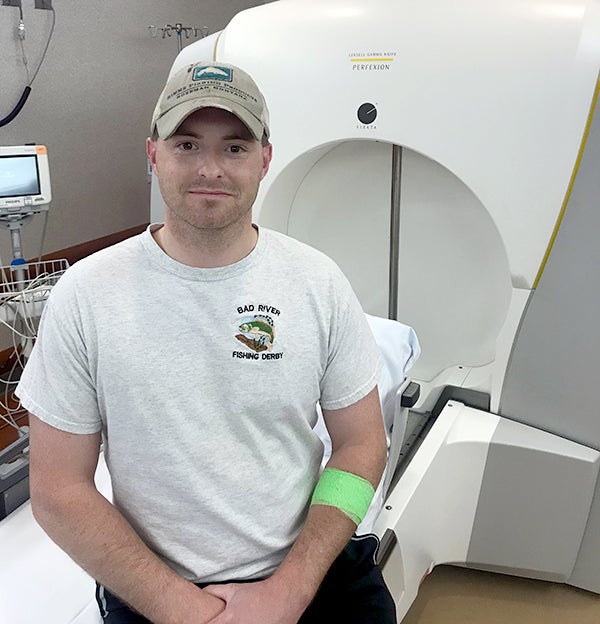 First introduced in the United States in 1987 at then Presbyterian University Hospital by Dr. Lunsford, the Gamma Knife pioneered minimally invasive stereotactic radiosurgery, providing a single-day outpatient strategy for a wide variety of vascular, tumor, pain, and abnormal movement indications.
The Gamma Knife procedure is a non-invasive alternative to traditional brain surgery and radiation therapy. Targets are defined based on high resolution brain imaging with no surgical incision required. The device delivers a high dose of irradiation to affected tissue through the intact skull, and is a treatment noted for its precise accuracy, efficiency and outstanding therapeutic response. 
The Gamma Knife was developed in the 1960s by the late Lars Leksell, a Swedish physician and professor of neurosurgery at the Karolinska Institute in Stockholm, Sweden. Dr.Lunsford studied at the Karolinska Institute under the direction of Dr. Leksell and Dr. Erik-Olof Backlund in 1980-81.
"With experience from 17,000 patients treated in Pittsburgh over the last 30+ years," Dr. Lunsford said, "we can confirm that Gamma Knife brain surgery has become a sustaining technology because of its proven medical value, improved patient outcomes and quality of life, plus reduced costs to patients and health care insurers.