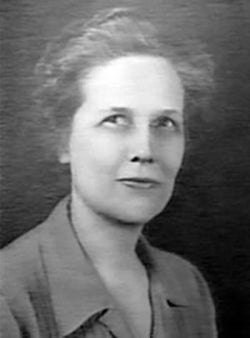 Dorothy Klenke Nash, MD, was the first female neurosurgeon to practice in the United States in 1928 and remained the country's only female neurosurgeon until 1960. A graduate of the prestigious Bryn Mawr College in 1921, Dr. Nash received her medical degree from the Columbia College (NY) of Physicians and Surgeons and received training in both neurology and neurosurgery under the guidance of Byron Stookey at the Neurologic Institute of New York.
Dr. Nash moved to Pittsburgh with her husband Charles in 1936. Unfortunately, she was not able to obtain a hospital appointment until a chance meeting with Morris Abel Slocum, MD, then chief of general surgery at St. Margaret Hospital. At the time, Nash was volunteering as a phlebotomist at a local blood bank and Dr. Slocum was in need of a replacement for a departing neurosurgeon. While donating blood, Slocum learned of Nash's background in neurosurgery and subsequently offered her a neurosurgical appointment at St. Margaret's.
Dr. Nash was eventually promoted to senior surgeon at St. Margaret's and later joined Stuart Niles Rowe, MD—widely considered to be the founding figure of neurosurgery in Pittsburgh—at Presbyterian University Hospital and the University of Pittsburgh School of Medicine. When Dr. Rowe enlisted for military service in World War II, he placed his service under the care of Dr Nash. When Dr. Rowe returned from the war, he reclaimed his practice and Dr. Nash returned to St. Margaret's, but he and Dr. Nash maintained a close professional relationship throughout their careers. 
Dr. Nash would become an instructor of neurosurgery at the university and an associate surgeon at West Penn Hospital and Children's Hospital before retiring from active practice in 1965.
During her career, Dr. Nash actively encouraged women to pursue careers in medicine, providing vocational lectures aimed toward female students at the University of Pittsburgh. She was also extensively involved in a number of volunteer activities including establishing the United Cerebral Palsy Association of Western Pennsylvania, where she would later serve as both secretary and vice president of the organization. She was also a proponent of public access to mental health services and the destigmatization of mental illness, helping found the Mental Health Society of Allegheny County and serving as an active member of the Pittsburgh Neuropsychiatric Society.
Dr. Nash received numerous awards and honors throughout her career including recognition by the Pittsburgh Post-Gazette as one of the newspaper's ten women of the year for 1957. In 1953 she was honored by the Distinguished Daughters of Pennsylvania for her outstanding achievements in brain surgery. In 1960, Bryn Mawr College awarded her with an honorary citation for her career achievements, and in 1968 the Columbia College of Physicians and Surgeons awarded her with a commemorative medallion for her contribution to the stature of the university.