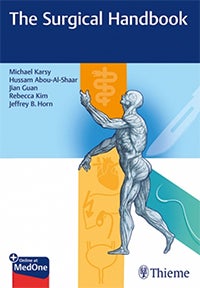 Pittsburgh, August 18, 2020 -- Hussam Abou-Al-Shaar, MD, third-year neurological surgery resident at the University of Pittsburgh, is co-author of a newly released medical guide, The Surgical Handbook, published by Thieme Publishers.
"The book serves as a great resource for medical students and junior residents interested in surgical specialties, especially neurosurgery," noted Dr. Abou-Al-Shaar. "It includes algorithms on the management of common emergencies across different surgical disciplines."
According to the publisher's website, the handbook "addresses training gaps by exposing early trainees, medical students, residents, advanced practice providers, and non-specialists to a diverse array of surgical subspecialty diseases and acute management topics. The impressive breadth of content presented in this resource reflects multidisciplinary contributions. The text covers far more than existing medical handbooks, while featuring concise distillation of key points conducive to learning.
"The book is organized by 16 sections starting with general perioperative and operative management of topics that apply to all surgeons, such as critical care, trauma, and general surgery. Subsequent chapters encompass a full spectrum of surgical specialties—from vascular and cardiothoracic—to neurosurgery and orthopaedics, as well as handy evidence-based reference guides. The focused collection of topics within each section serves as a useful resource for learning about management of specific diseases and also a starting point for self-directed learning."
Michael Karsy, MD, PhD; Jian Guan, MD; Rebecca Kim, MD; and Jeffrey B. Horn, MD, are co-authors on the book.