Pittsburgh, June 19, 2022 -- A special black-tie graduation reception and dinner was held Saturday, June 18, at the Pittsburgh Golf Club honoring 2022 graduating residents Nima Alan MD; Enyinna Nwachuku, MD; Alp Ozpinar, MD, and Matthew Pease, MD, on their successful completion of the University of Pittsburgh's seven-year neurological surgery residency program. The event was attended by more than 100 faculty members, colleagues, family and friends.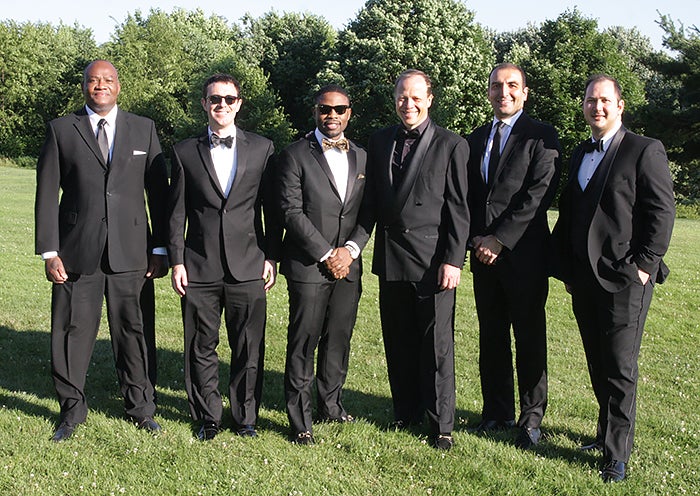 Following graduation, Dr. Alan is headed to Barrow Neurological Institute in Phoenix, Ariz. for a minimally invasive complex spine fellowship; Dr. Nwachuku has accepted a position as director of neurotrauma at the Cleveland Clinic Foundation; Dr. Ozpinar is headed to Oregon Neurosurgery in Springfield, Ore. to continue his work in complex spine and minimally invasive spine surgery; and Dr. Pease will serve a neuro-oncology fellowship at Memorial Sloan Kettering Cancer Institute in New York.
Annual teaching awards were also announced at the dinner. Dr. Nwachuku was selected as the best resident teacher as chosen by department faculty and Pascal Zinn, MD, PhD, was announced as the best faculty teacher by the residents. Special awards were also presented to PGY-4 resident Arka Mallela, MD—Highest ABNS Score Award—PGY-2 resident Rachel Jacobs, MD—Excellence in Neurosurgery Award—and Dr. Ozpinar—Aequanimitas Award for humility, compassion and excellent care of patients.
The department also recognized the following for completing fellowships this year: Daniel Hafez, MD, and Drs. Alan and Ozpinar (Spine); Dr. Nwachuku (Critical Care Medicine); Christina Jackson, MD, (Open and Endoscopic Cranial Base);  Edward Andrews, MD, Xiaoran Zhang, MD, and Dr. Pease (Neuro-oncology); and Michael McDowell, MD, (Pediatric), who will be joining the faculty at UPMC Children's Hospital of Pittsburgh as an assistant professor on July 1.
As the department honored its graduating residents, it also took the time to welcome four new residents Joe Garcia, MD; Eric Nturibi, MD; Will Shuman, MD; and James Yoon, MD.