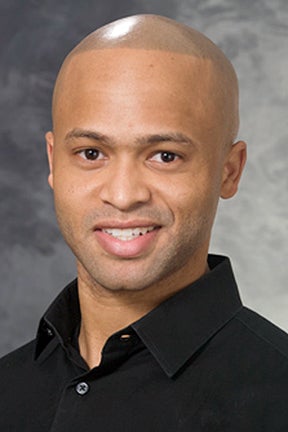 Pittsburgh, May 26, 2021 -- Daryl P. Fields II, MD, PhD, PGY-3 neurosurgery resident at the University of Pittsburgh, has been named recipient of top research awards from the Chuck Noll Foundation for Brain Injury Research and the 2021 Congress of Neurological Surgeon Spine Summit for his work in spine trauma research.
Dr. Fields is the first resident to receive a research award from the Chuck Noll Foundation and the first researcher to receive an award from the foundation for spinal trauma research. His research project seeks to identify novel biomarkers for diagnosing and prognosticating outcomes in spinal cord injury patients.
The Chuck Noll Foundation for Brain Injury Research, funded by the Pittsburgh Steelers, was established in 2016 with the mission of advancing research in the diagnosis and treatment of brain and spine injuries in athletes. It is named for the legendary Steeler head coach who had a strong commitment to player safety and pushed for the advancement of better brain and spine trauma diagnosis and treatment.
Dr. Fields was also named a recipient of the Charlie Kuntz Scholar Award from the Congress of Neurological Surgeon. This award is given to the top 30 neurosurgical residents or fellows who author outstanding abstracts detailing a laboratory or clinical investigation in the area of spinal disorders. Dr. Field's research deals with how timely surgery reduces chronic pain in spinal trauma patients. He will present his work at the 2021 Spine Summit scheduled for July 28-31 in San Diego.