Pittsburgh, July 14, 2020 -- The University of Pittsburgh and UPMC Center for Image-Guided Neurosurgery successfully conducted the first virtual Gamma Knife training course July 6-10, 2020, with participants from around the world attending.
The online course—the 140th presentation of the center's popular Principles and Practice of Gamma Knife Radiosurgery course—was organized and held to accommodate COVID travel restrictions and associated health concerns. It included lectures, videos, application demonstrations and live hands-on supervised treatment planning for the Leksell Gamma Knife, one of the most advanced means available to manage brain tumors; arteriovenous malformations and pain or movement disorders.
Principles and Practice of Gamma Knife Radiosurgery—directed by L. Dade Lunsford, MD, and Ajay Niranjan, MD—is held to meet the needs of centers just beginning Gamma Knife use or individuals joining existing Gamma Knife programs. More than 2500 profesionals have trained under Dr. Lunsford since he brought the first Gamma Knife to the United States in 1987. The online course further establishes the Center for Image-Guided Neurosurgery and the University of Pittsburgh as a leading training center for Gamma Knife health professionals.
For more information on future Gamma Knife online courses, please contact Kelly Powell at 412-647-7744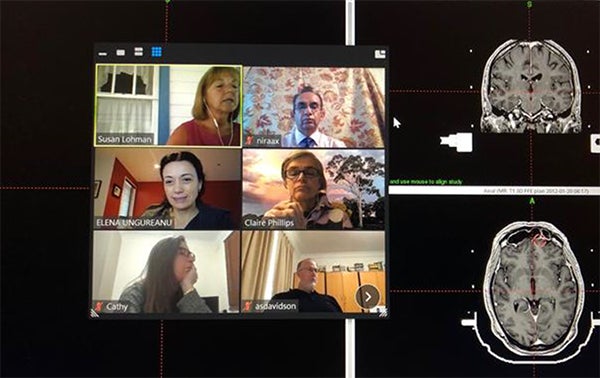 Here are some comments from participants after completion of the inaugural online course:
"Thank you to you all for organizing such a great online course. The course structure, content, organization and the presentations were excellent. "
    -Neurosurgeon from Saudi Arabia
"I have enjoyed the course very much. I would also like to commend your team on the quality of the lectures, the in-depth information provided and, on your willingness, to share from your vast experience. Thank you."
    -Medical Physicist from Australia
"Thank you very much for allowing me the opportunity to participate in the Gamma Knife Course this week. I was very worried about missing out on the course because of the COVID-19 pandemic; however, you provided an excellent online alternative. The quality of the pre-recorded videos was excellent, and the real-time online treatment planning sessions were extremely helpful."
    -Neurosurgeon from Australia