Pittsburgh, June 13, 2022 -- Joseph Maroon, MD, clinical professor and Heindl Scholar at the University of Pittsburgh, received the 2022 Distinguished Medical Alumni Award from the Indiana University School of Medicine June 11 as part of the university's annual medical alumni weekend.
The IU Distinguished Medical Alumni Award recognizes alumni of the IU School of Medicine who bring honor to the school through outstanding professional achievement or by performing extraordinary service to their medical alma mater. It is the highest alumni award the university can bestow on a graduate.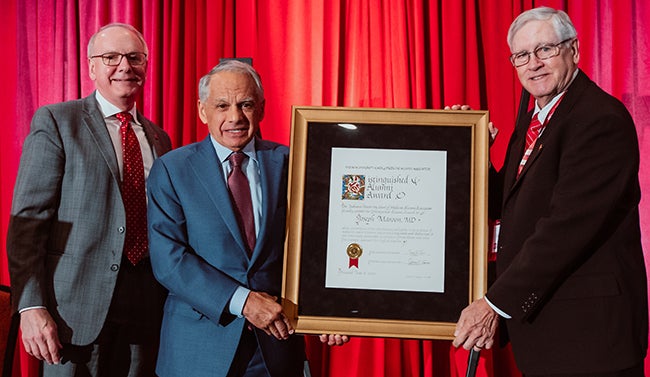 A BA'62/MD'65 graduate of IU, Dr. Maroon is an internationally renowned expert in health and sports medicine. He has consistently been honored as one of America's best neurosurgeons and has written over 300 scientific papers, 60 book chapters and several books. His most recent book, Square One: A Simple Guide to a Balanced Life, takes a look at the importance of understanding where you are in life and the need to keep all elements of your life in proper "balance."
A longtime team neurosurgeon and medical consultant for the Pittsburgh Steelers and medical director for World Wrestling Entertainment, Dr. Maroon co-developed the ImPACT® neurocognitive test for concussion management, now a standard of care in contact sports including the National Football League and most collegiate and prep programs across the country. He is a member of the NFL Head and Spine committee and was awarded the NFL Physicians Society Arthur C. Rettig Award for Academic Excellence in Research in 2022 for advancing the health and safety of players in the NFL. In 2018, he was presented the Humanitarian of the Year Award by the Jerome Bettis Bus Stops Here Foundation.
An accomplished athlete in his own right, Dr. Maroon was a scholastic All-American in football at IU. He would go on to become a prolific triathlete, competing in over 100 events, including eight Ironman events, often finishing in the top of his class. He was inducted into the Lou Holtz Upper Ohio Valley Hall of Fame for his athletic accomplishments and contributions to sports medicine, joining other sports legends such as Joe Montana, Kareem Abdul Jabbar, John Havlichek and Phil Niekro.