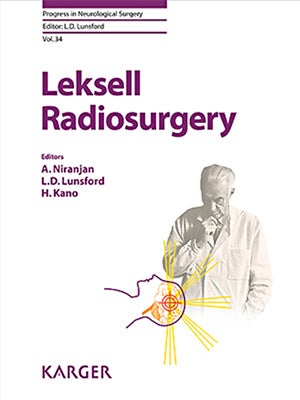 Pittsburgh, May 29, 2019 -- Ajay Niranjan, MD, L. Dade Lunsford, MD, and Hideyuki Kano, MD, PhD, are co-editors of a newly released book volume, Leksell Neurosurgery, that presents an update on state-of-the-art radiosurgery technology, including outcomes. The book volume, published by Karger, is the 34th volume in the publisher's popular Progress in Neurological Surgery series.
According to Karger, the "book is a concise overview for physicians interested in radiosurgery. It will be of great value to neurosurgeons, radiation oncologists, and medical physicists concerned with learning about the indications of radiosurgery.
"Experts provide a history of the development of Leksell Gamma Knife and its evolution from frame-based to the inclusion of mask-based radiosurgery in the latest Gamma Knife model. For beginners, there is valuable information related to imaging, quality assurance, patient care, anesthesia, and regulatory requirements. Advance users will appreciate the summary of the long-term outcome of important indications. Additional chapters on cavernous malformation, orbital, uveal, and ocular disorders clarify the role of radiosurgery."
Published since 1966 and edited by Dr. Lunsford, the Progress in Neurological Surgery series has become universally recognized as the most significant group of books serving neurological surgeons. Volumes feature contributions from distinguished international surgeons, who brilliantly review the literature from the perspective of their own personal experience. The result is a series of works providing critical distillations of developments of central importance to the theory and practice of neurological surgery.
More information on Leksell Neurosurgery can be found on Karger's website.