Pittsburgh, May 2, 2022 -- Thirteen University of Pittsburgh neurosurgeons were named among this area's best doctors in their field in a national survey published locally in Pittsburgh Magazine.
The list includes: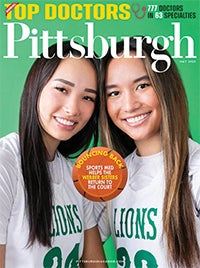 Matt El-Kadi, MD, PhD
Robert M. Friedlander, MD
Paul A. Gardner, MD
Peter C. Gerszten, MD
Jorge A. Gonzalez-Martinez, MD, PhD
Stephanie Greene, MD
D. Kojo Hamilton, MD
Adam S. Kanter, MD
L. Dade Lunsford, MD
Vincent Miele, MD
David O. Okonkwo, MD, PhD
Ian Pollack, MD
Daniel Wecht, MD
Castle Connolly Top Doctors, a health care research company, is the official source for the magazine's top doctors list. According to the magazine, "Castle Connolly's established nomination survey, research, screening and selection process, under the direction of an MD, involves many hundreds of thousands of physicians as well as academic medical centers, specialty hospitals and regional and community hospitals all across the nation."